Ke Francis is a narrative artist who has been actively producing artwork for more than fifty years. Mr. Francis is represented by Mira Mar Gallery in Sarasota, Florida Mining Gallery in Jacksonville, FL, Fischer Gallery, Jackson, MS, The Arts Company, Nashville, TN, Blue Spiral 1, Asheville, NC and Kim Caron Agency, Tupelo,MS. His book works, paintings, prints, photographs and sculptures are in numerous public and private collections including: The Mississippi Museum of Art, Jackson, MS., Vanderbilt Special Collections, The Getty Museum, Los Angeles, CA, The National Gallery, Washington, DC, National Museum of American Art, Washington, DC, High Museum, Atlanta, GA, New Orleans Museum of Fine Art, San Francisco Museum of Contemporary Art, Yale / Sterling Memorial Library, Van-Pelt Dietrich Collection, and The Polaroid Collection, among many others.
I have chosen to work with themes and subjects that are familiar to me. I am a well traveled and well educated American. I have recorded images and stories from my travels and they are the raw materials of my narrative work. I think it would come as no surprise to find that these compiled notes, sketches, and photographs which are my visual backlog vary in quantities that are directly proportional to the time I have spent in any region. I feel comfortable using any of this first-hand information (since I compiled it) but it is obvious that since I have spent the majority of my time in the southeastern United States the art is most reflective of that environment. I have tried to create work that would be of interest to the broadest range of viewers (and readers) and still meet my aesthetic criteria. While my work naturally springs from the most available visual resources I also attempt to integrate concepts and images that have been passed down from us from a variety of cultural sources. These concepts and images are part of our collective human heritage and are a shared part of the twenty-first century experience. It is the integration of these collective ideas, along with the use of first - hand regional idioms, and personal environmental references that makes my work American.
I believe in the art experience. I believe it is possible, even probable, that reading books, experiencing plays, viewing good art, and listening to beautiful music can make a person a more complete and empathetic human being. I believe that experiences can be shared, emotions expressed and understood, and that these communications offer us insights into the human condition and increase both our tolerance and our appreciation of our fellow humans.
"I do what the work tells me to do. When a work is successful, it is because I've managed to get out of the way. " | Ke Francis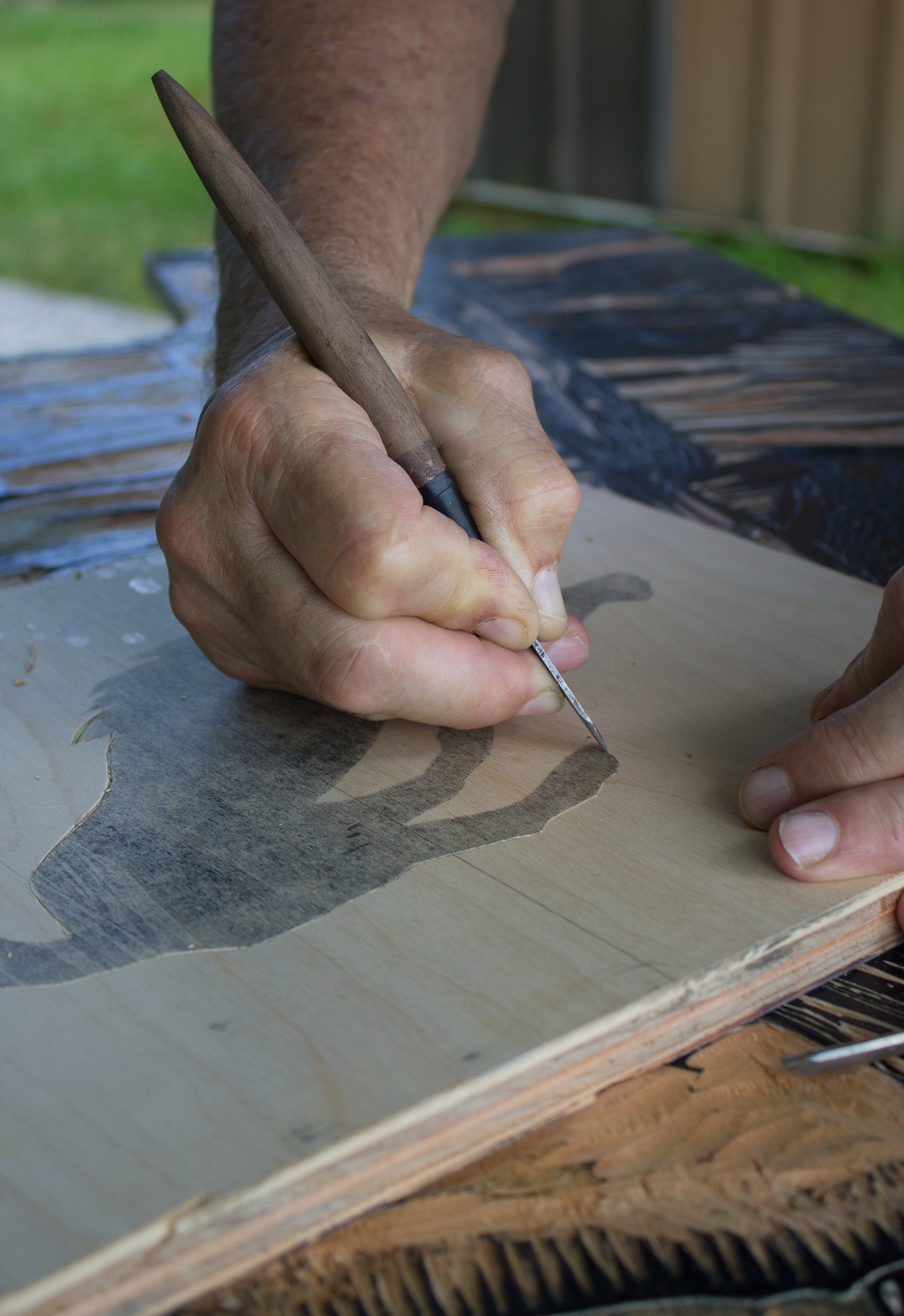 The Book as a Form of Individual Self- Expression | An Interview with Ke Francis
Question: A book is usually a collaborative effort. Publishers choose a text from an author, an illustrator to provide images, a designer to do the layout, choose the type for titles and the body of text, a printer to get the text and images printed and a binder to combine the printed material and cover it.  How does the creation of a Ke Francis book differ from this normal process?
Ke Francis: I write the text, do the illustrations, design the layout and print and bind the book. The whole process is the work of one individual artist.
Question: Do you think that your process produces a better book than the traditional collaborative process?
Ke Francis: I wouldn't say that it guarantees a better book.  I would say that the reader can be assured that the intellectual and sensory experience that they have while reading, viewing and handling the work will more nearly match the experience the book's creator intended.
Question: The history of book production would seem to indicate that the collaborative process is the only way to produce enough books to satisfy the public's demand for popular writers. Has something changed that would indicate this won't be the case in the future? If something has changed in the publishing world how does that effect your particular process?
Ke Francis: The advent of the digital age, the internet, digital tablets that allow readers to download books by their favorite authors, read them and then erase them has certainly changed the demand for printed media in all forms. Readers and authors who view books as simply a series of sequential cyphers that deliver a sentence that links with another sentence to form a paragraph and deliver a thought are, in most cases, pleased with this development. The book was only a form to deliver a story and once the story was told then the book itself could be trashed as far as they were concerned. It was only the sequence of cyphers that mattered anyway. For most of these people the illustration often just "got in the way" of the pure cypher delivery. In their mind's eye the author's words created the only pictures they needed. For these people the digital tablet must seem like their "dream come true".  Of course there is another type of reader and other types of writing. These readers demand a more sensual reading experience. They take pleasure in accompanying images and illustrations if artfully done. They enjoy the impression of letterpress type upon quality paper, and the feel of a balanced binding resting in their hands. These readers choose texts that yield new information and insights at subsequent readings (poetry for example) and since they keep their books to read again and again they enjoy the durability of a stitched binding with a hardbound cover. Sometimes my works contain CDs of me reading the story. That adds another sensory dimension.
Question: What you seem to be suggesting is that books that once were intended for a "one-time" read and disposed of will now be dispersed electronically and books that will be collected will be produced by hand processes (or at least in smaller shops) is that right?
Ke Francis: Probably right! The number of books will be limited since small shops are not designed to mass produce works in larger volumes. The books will, necessarily be more expensive because of the lower volume and the handwork necessary to craft the books but the materials and the quality of the craftsmanship will approach that of other major art forms such as sculpture, painting, etchings and stone lithography.  The works will be collectable and the collections passed on for generations if the texts and images are artistically conceived.
Question: What you have defined is a second category of the publishing trade. There have always been "fine press" publications that did exquisite printing and binding and combined recognized writers with "blue chip" artists. Does your work fall under that "fine press" category.
Ke Francis: I don't suppose it does. If you take the work of a well - known author and ask a "blue chip" artist to illustrate (or illuminate) it, Ask a top-flight designer to lay it out and a high quality printer to print it then turn it over to a top flight binder you have about 150 years of personal experience working on a project (each person may have thirty years of experience). That will certainly produce a quality object. The problem is that the writer rarely agrees with the illustrator about imagery and the artist rarely agrees with the designer about type face and placing of the images within the story and the publisher probably thinks it is all too expensive and has to cut back on the materials of the binding and so many compromises are made in the process that the book often becomes a beautiful camel ( a horse designed by a committee).  At least when an artist carries a project through from start to finish he is in charge of every decision. The decisions are similar to decisions a painter or a sculptor would make in the production of a one-of-a-kind artwork. The book, in this case, is simply another artistic form employed by the artist as a means of communicating a complete and individual multi-sensory experience.